Skip Navigation
Website Accessibility
September Trunk Show:
Mindy's Needlepoint
This month we're bringing you the colorful canvases from Mindy's Needlepoint Designs. Stop by to see what's in stock and take advantage of our 20% trunk show discount.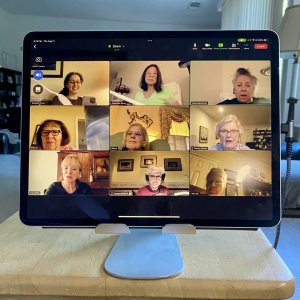 Virtual Stitch-In -
Thursdays 6:00-7:30 pm (PT)
Join the OWD stitchers via Zoom every Thursday evening. You don't have to live in the Bay Area to join!
>>Click to join the Virtual Stitch-In
First Tuesdays with June McKnight - October 3
June McKnight continues her monthly Zoom mini classes for us. Next up: troubleshooting tips, like stitching on black, dealing with dye lot shifts, etc. Joins us on Tuesday, October 3, from 6-7 pm Pacific Time.
Email
or call us to register.
Grab and Go Class:
Hair & Beards - October 14
Learn about stitches and threads to create realistic and stylized hair and beards. Come with a project in mind and we'll help you find options to use on your canvas.
Email
or call us to sign up.
California Wreath Workshop with Alison Hodgkiss
Celebrate life in California with this custom canvas by Raymond Crawford. Alison Hodgkiss from A Stitch in Time Needlework will teach her stitch guide for us Nov. 3 & 4. Email or call the shop to register.
Spots Still Available:
Rudolph Series
Bring Rudolph and his friends to life with this 7-canvas series, including stitch guides and 2 live classes with Suzanne Attenborough. Series runs June through December.
Email
or call the shop to register.