Skip Navigation
Website Accessibility
October Trunk Show:
Kirk & Bradley
For October, we've got the wonderful canvases from Kirk & Bradley. Lots of great options to choose from - stop by the shop to see! 20% trunk show discount.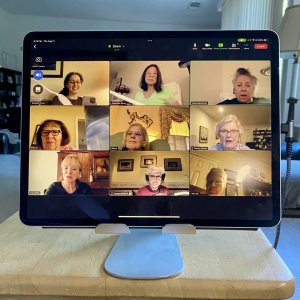 Virtual Stitch-In -
Thursdays 6:00-7:30 pm (PT)
Join the OWD stitchers via Zoom every Thursday evening. You don't have to live in the Bay Area to join!
>>Click to join the Virtual Stitch-In
First Tuesdays with June McKnight - October 3
June McKnight continues her monthly Zoom mini classes for us. Next up: troubleshooting tips, like stitching on black, dealing with dye lot shifts, etc. Joins us on Tuesday, October 3, from 6-7 pm Pacific Time.
Email
or call us to register.
[POSTPONED] Grab and Go Class: Hair & Beards
Learn about stitches and threads to create realistic and stylized hair and beards. Come with a project in mind and we'll help you find options to use on your canvas.
Email
or call us to sign up.
Oct. 14 class has been postponed - new date TBA.
California Wreath Workshop with Alison Hodgkiss
Celebrate life in California with this custom canvas by Raymond Crawford. Alison Hodgkiss from A Stitch in Time Needlework will teach her stitch guide for us Nov. 3 & 4. Email or call the shop to register.
Join Our In Store Stitch-Ins
Join fellow stitchers at the shop on Thursdays and Fridays for fun and stitching. Open house style starting at 10 am - come for just an hour or the whole day!