Home > Canvases
Canvases
Old World Designs offers a wide selection of hand-painted needlepoint canvases, most are stitch painted (the paint covers the intersection of the warp and weft of the canvas precisely). If you do not find a canvas you are looking for on these pages, please contact us and we'll do our best to fulfill your heart's desire. The canvases shown on the website may not currently be in stock, if this is the case it will take anywhere from 1 -10 weeks for us to ship to you.
PRICE DISCLAIMER: We try to keep the prices on our website up to date. But, if an artist increases the price to us, we reserve the right to increase the price of the canvas to our customers. At times the price of a canvas that we receive from a vendor changes from the time we order it. We never increase the price on our own, we increase only in response to an increase from our vendors. Thank you for your understanding!
| | |
| --- | --- |
| 201 to 240 of 586 Items | Page 1 . . . 4 5 6 7 8 . . . 15 > |
Gazelle from Shorebird Studios
$305.00
Geometric Eyeglass Case by Maggie
$72.00
Geometric F from HSN
$58.00
Geometric Fish from Susan Roberts
$196.00
Geometric Ribbons from Zecca
$220.00
Geometric S from HSN
$58.00
Geometric T from HSN
$58.00
Giraffe Advent Calendar ornament from Renaissance Designs
$37.50
Giraffes by Patti Mann
$87.00
Give Thanks by JL Canvas Company
$77.00
Glinda the Good Witch Nutcracker Roll-up from Julia's Needleworks
$67.00
Gnome Angel from Painted Pony
$75.00
Golden Doodle Seed Co from Tango & Chocolate
$224.00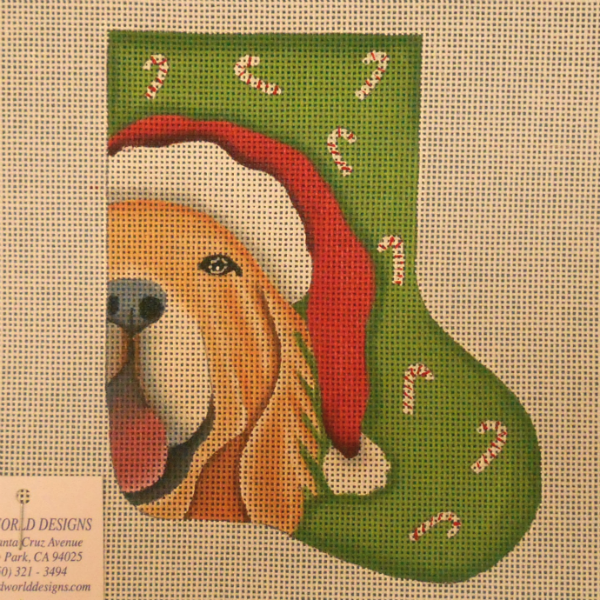 Golden Retriever Mini Stocking by Maggie
$67.00
Golf Flask by Voila!
$75.00
Golf Nutcracker Roll-Up from Julia's Needleworks
$69.00
Golf themed 3" round from Lee
$32.00
Good Night, Moose! from Silver Needle
$145.00
Great Gatsby coaster from Melissa Prince
$58.00
Grey & White Trellis Work from Associated Talents
$135.00
Guac 'n Roll by Patti Mann
$85.00
HaChaCha - Leopard print mini sock from Voila!
$60.00
Hagetha Treetop Witch from Melissa Shirley
$292.00
Halloween Bat from Kirk & Bradley + Stitch Guide by June McKnight
$80.00
Halloween Bones from Kirk & Bradley + Stitch Guide by June McKnight
$80.00
Halloween Bumblebee Trick or Treater from Kirk & Bradley
$80.00
Halloween Cat from Kirk & Bradley + Stitch Guide by June McKnight
$80.00
Halloween Cauldron from Kirk & Bradley + Stitch Guide by June McKnight
$80.00
Halloween Cone Cat by Brenda Stofft
$90.00
Halloween Cone Devil by Brenda Stofft
$90.00
Halloween Cone Jack O' Lantern by Brenda Stofft
$90.00
Halloween Devil Trick or Treater from Kirk & Bradley + Stitch Guide by June McKnight
$80.00
Halloween Frankenstein Trick or Treater from Kirk & Bradley + Stitch Guide by June McKnight
$80.00
Halloween Gravestones from Kirk & Bradley + Stitch Guide by June McKnight
$80.00
Halloween Jack o'Lantern from Kirk & Bradley + Stitch Guide by June McKnight
$80.00
Halloween Owl from Kirk & Bradley + Stitch Guide by June McKnight
$80.00
Halloween Poison Bottles from Kirk & Bradley + Stitch Guide by June McKnight
$80.00
Halloween Pumpkin Trick or Treater from Kirk & Bradley + Stitch Guide by June McKnight
$80.00
Halloween Scarecrow Trick or Treater from Kirk & Bradley + Stitch Guide by June McKnight
$80.00
Halloween Spider from Kirk & Bradley + Stitch Guide by June McKnight
$80.00